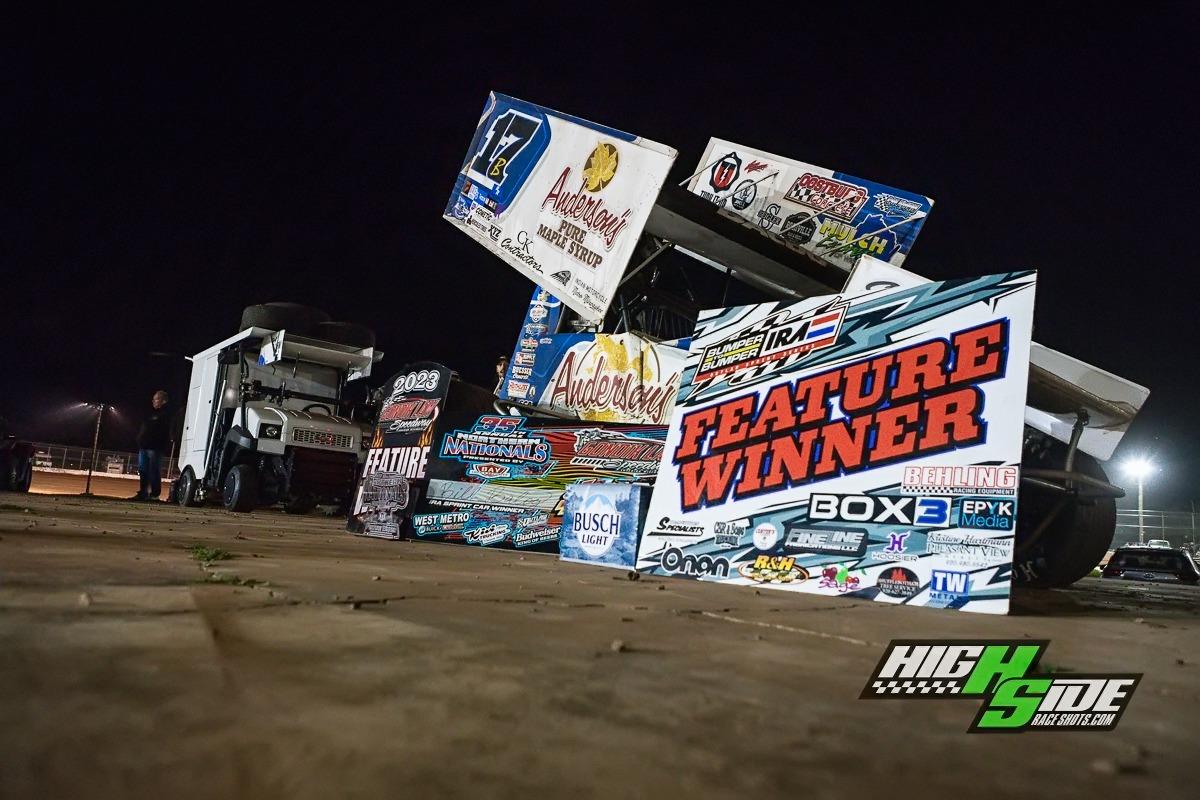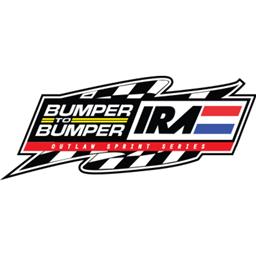 9/8/2023
IRA Interstate Racing Association
---
North Pole Nightmare Wins Northern Nationals
North Pole Nightmare Wins Northern Nationals
The field was led to the green by Ian Madsen and Scotty Thiel. Madsen would take advantage of his front row starting position and jump to the early lead. Thiel would be challenged by the forces of Goldesberry, Balog, and Crouch. Balog would make his way to third in front of Crouch and Goldesberry and be side by side with the 73 at the flag stand.
Balog would steal second from Thiel and would begin to reel in the 34DD of Ian Madsen. Madsen would have a strong lead on the rest of the field. Fans would soon see the battle for fourth brewing as the 85M of Steve Meyer would surrender fourth to Goldesberry.
We would draw out our first cation for the 199 of Ryan Bowers who had spun in turn three. This would allow Balog, currently running second, to capitalize on the ground made up on the restart.
On the restart, it would be Madsen, Balog, Goldesberry, Thiel, and Arenz. Meyer would be one of the drivers to use the restart to his advantage and pass Thiel for fourth. Meyer, however, would fall back to 7th allowing Crouch, Thiel and Arenz past him before we drew out our second caution for the 26R of Preston Ruh.
Balog had taken notes from the previous restart, and on this second caution, Balog would blow past Madsen for the lead and not look back. Balog would enter kap traffic with three laps to go. Thiel and Crouch would battle for second as they crossed the flag with 2 laps remaining.
The white and then checkered would fly for the 17B as he would take home the $4,000 payday at the Northern Nationals. Second would be Madsen, and rounding out the podium would be the 65 of Goldesberry.
We are back in action tonight for the 23rd Annual Jerry Richert Memorial at Cedar Lake Speedway. Can't be there? You can watch the racing live on Floracing.
Photos by Emily Schwanke
A Feature 25 Laps | 00:21:06.618
17B-Bill Balog[6]; 2. 34DD-Ian Madsen[1]; 3. 65-Jordan Goldesberry[4]; 4. 25T-Travis Arenz[5]; 5. 1-Brenham Crouch[9]; 6. 73-Scotty Thiel[2]; 7. 8H-Jade Hastings[11]; 8. 2W-Scott Neitzel[10]; 9. 85M-Steve Meyer[3]; 10. U2-Jack Vanderboom[7]; 11. 23-Russel Borland[12]; 12. 25-Danny Schlafer[15]; 13. 9K-Kyle Schuett[14]; 14. 8-Jack Croaker[21]; 15. 87A-Austin Hartmann[17]; 16. 74N-Luke Nellis[13]; 17. 13H-Patrick Heikkinen[22]; 18. 19B-Jack Berger[18]; 19. 34D-Brady Donnohue[16]; 20. 68-Dave Uttech[19]; 21. 39V-William Huck[20]; 22. (DNF) 199-Ryan Bowers[8]; 23. (DNF) 26R-Preston Ruh[23]
Dash 1 4 Laps | 00:03:38.340
34DD-Ian Madsen[1]; 2. 85M-Steve Meyer[2]; 3. 25T-Travis Arenz[4]; 4. U2-Jack Vanderboom[3]; 5. 1-Brenham Crouch[5]
Dash 2 4 Laps | 00:02:14.617
73-Scotty Thiel[2]; 2. 65-Jordan Goldesberry[4]; 3. 17B-Bill Balog[5]; 4. 199-Ryan Bowers[1]; 5. 2W-Scott Neitzel[3]
Heat 1 8 Laps | 00:09:25.768
34DD-Ian Madsen[1]; 2. 65-Jordan Goldesberry[4]; 3. 85M-Steve Meyer[2]; 4. 25T-Travis Arenz[3]; 5. 25-Danny Schlafer[7]; 6. 87A-Austin Hartmann[6]; 7. 26R-Preston Ruh[8]; 8. (DNF) 68-Dave Uttech[5]
Heat 2 8 Laps | 00:04:35.721
17B-Bill Balog[4]; 2. 8H-Jade Hastings[1]; 3. U2-Jack Vanderboom[2]; 4. 2W-Scott Neitzel[3]; 5. 9K-Kyle Schuett[5]; 6. 19B-Jack Berger[8]; 7. 13H-Patrick Heikkinen[7]; 8. 39V-William Huck[6]
Heat 3 8 Laps | 00:09:43.529
73-Scotty Thiel[4]; 2. 1-Brenham Crouch[3]; 3. 23-Russel Borland[5]; 4. 74N-Luke Nellis[7]; 5. 199-Ryan Bowers[2]; 6. 34D-Brady Donnohue[1]; 7. 8-Jack Croaker[6]
Qualifying | 00:00:36.000
65-Jordan Goldesberry, 00:15.108[5]; 2. 17B-Bill Balog, 00:15.141[1]; 3. 73-Scotty Thiel, 00:15.168[11]; 4. 25T-Travis Arenz, 00:15.714[2]; 5. 2W-Scott Neitzel, 00:15.909[22]; 6. 1-Brenham Crouch, 00:16.146[14]; 7. 85M-Steve Meyer, 00:16.203[6]; 8. U2-Jack Vanderboom, 00:16.248[8]; 9. 199-Ryan Bowers, 00:16.277[7]; 10. 34DD-Ian Madsen, 00:16.279[9]; 11. 8H-Jade Hastings, 00:16.376[13]; 12. 34D-Brady Donnohue, 00:16.413[4]; 13. 68-Dave Uttech, 00:16.425[18]; 14. 9K-Kyle Schuett, 00:16.449[20]; 15. 23-Russel Borland, 00:16.544[15]; 16. 87A-Austin Hartmann, 00:16.687[16]; 17. 39V-William Huck, 00:16.780[3]; 18. 8-Jack Croaker, 00:16.868[17]; 19. 25-Danny Schlafer, 00:17.131[19]; 20. 13H-Patrick Heikkinen, 00:17.555[12]; 21. 74N-Luke Nellis, 00:17.594[10]; 22. 26R-Preston Ruh, 00:17.829[23]; 23. 19B-Jack Berger, 00:17.873[21]
Hot Laps | 00:14:24.000
73-Scotty Thiel[11]; 2. 1-Brenham Crouch[14]; 3. 65-Jordan Goldesberry[5]; 4. 17B-Bill Balog[1]; 5. 25T-Travis Arenz[2]; 6. U2-Jack Vanderboom[8]; 7. 2W-Scott Neitzel[22]; 8. 199-Ryan Bowers[7]; 9. 87A-Austin Hartmann[16]; 10. 34D-Brady Donnohue[4]; 11. 8H-Jade Hastings[13]; 12. 8-Jack Croaker[17]; 13. 85M-Steve Meyer[6]; 14. 23-Russel Borland[15]; 15. 39V-William Huck[3]; 16. 9K-Kyle Schuett[20]; 17. 34DD-Ian Madsen[9]; 18. 25-Danny Schlafer[19]; 19. 68-Dave Uttech[18]; 20. 13H-Patrick Heikkinen[12]; 21. 19B-Jack Berger[21]; 22. 74N-Luke Nellis[10]; 23. 26R-Preston Ruh[23]
---
Article Credit: Madeline "Chatty Madi" Schultz
Submitted By: Madeline Schultz
Article Media
Back to News