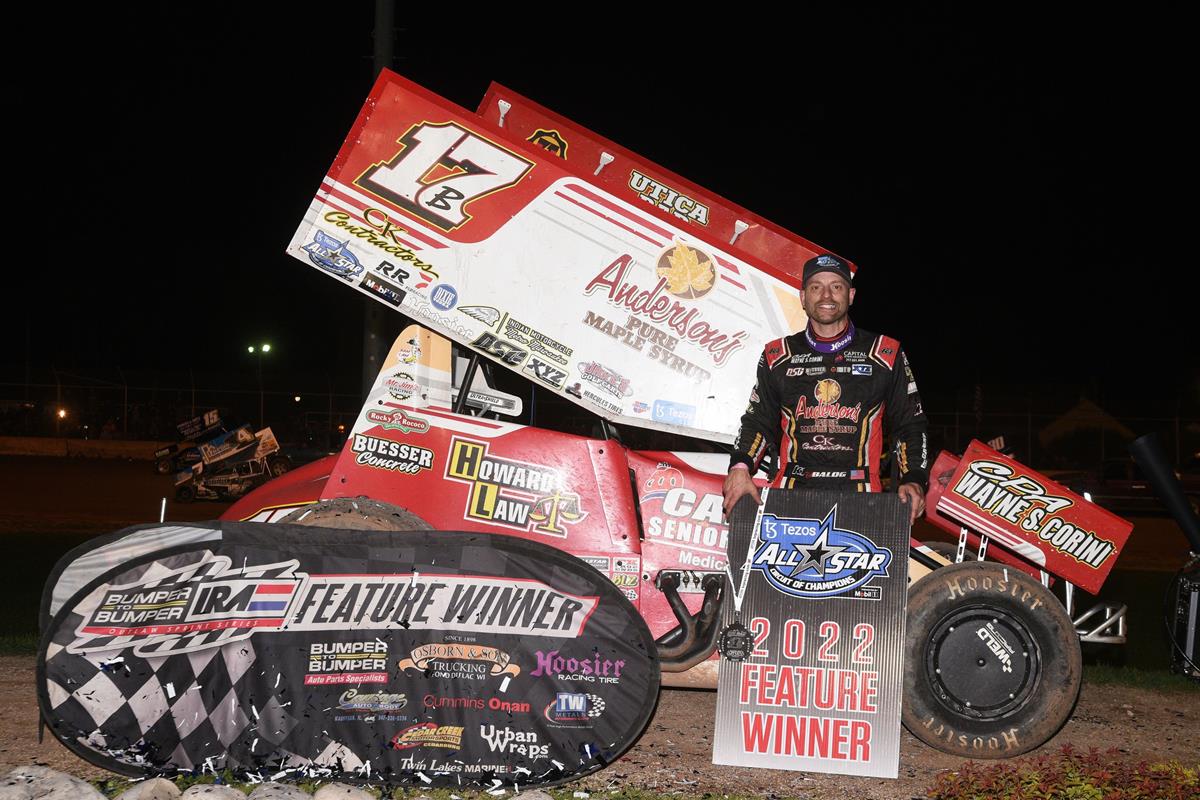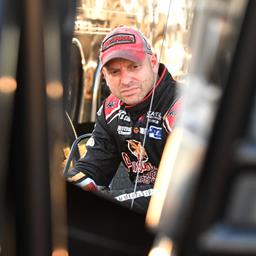 ---
Balog goes Back-to-Back at Plymouth Dirt Track with the All Star Circuit of Champions and IRA Sprint Car Series
Hartland, Wisconsin (May 28th, 2022) – A year ago in 2021, the North Pole Nightmare picked up his first career FloRacing All Star Circuit of Champions Feature win at Plymouth Dirt Track with a dominating performance. Bill set Quick Time, won the Dash and led 26 of 30 laps in a thrilling green to the checkered Feature in his home state of Wisconsin. Less than 24 hours later, the "North Pole Nightmare" won again, this time at the Angell Park Speedway in Sun Prairie, Wisconsin, on Sunday, June 6th, 2021.
2022 was a flat right rear tire away from a repeat as Bill Balog and B Squared Motorsports continued their dominant performance over the Tezos All Star Circuit of Champions presented by Mobil 1 and IRA Sprint Car series contenders through the Wisconsin DairyLand May 21st and 22nd, 2022.
The 10 time IRA champion kicked off the weekend claiming Bill's third All Star win at Plymouth Dirt Track in the Anderson's Pure Maple Syrup #17B, two of which are at that track. Completing a near perfect evening, Balog secured an A-Main pole starting position by winning his heat race and the dash, before going on a tear through lap traffic, controlling all 30 laps to capture the $6,000 payday in front of his hometown fans at the Plymouth Dirt Track. Only a yellow flag on lap ten would slow Balog's progress through lapped traffic and bunch the field behind him, but he continued his torrid pace, clearing lapped cars and securing the win in dominating fashion. Bill led an all-Wisconsin podium that included second place finisher Danny Schlafer, a regular contender with the Bumper to Bumper IRA Outlaw Sprint Series, followed by Scotty Thiel.
"It feels really good to get a win in front of these Wisconsin fans, as well as get a win for all of our great partners. They are the reason we get to do this and it feels good to be standing up here for them," Bill Balog said, a ten-time IRA champion and driver of the CK Contractors LLC, Buesser Concrete, Howard Law, Wayne Corini, CPA, Capitol Senior Services LLC, Rocky Rococo's Pizza, Turn It Up Media sprint car. "I wish we had the opportunity to race in Wisconsin a little more often."
The following night at Angell Park Speedway in Sun Prairie, Wisconsin, just a few miles down the road from the B Squared Motorsports shop, the team represented local Hy-Vee on the hood as a featured sponsor, an employee-owned chain of supermarkets, with a location in Sun Prairie, WI. The North Pole Nightmare continued his impressive showing, securing his spot in the dash redraw after a strong performance capturing the win in Hunt Brothers Pizza Heat 1. In the main event, on a treacherous racing surface, Bill stalked early race leader Justin Peck after a third place starting position. While running in the runner up position, Bill experienced a flat RR at the midway point of the 30 lap feature while under red. The B Squared Motorsports team replaced the tire and Bill tagged the back of the field for the remaining 15 laps. After another stop in the Indy Metal Finishing work area with 12 laps to go, Balog and the Anderson's Pure Maple Syrup #17B sprint car would again go on a tear, passing the evening's hard charger and eventually running out of laps to content for the win, settling for an exciting and extremely fast fourth place finish from the tail of the field.
"Sitting under red at the midpoint, I felt confident that we had a shot to win in front of the Wisco fans again. I wish we could have had the chance to go back-to-back again, but there is not much you can do, we did all the right things. We had an amazing race car and am proud of the way we battled through the feature event, I had to sit up in the seat and try to pass as many cars as we could." said Balog.
Article Photos: Chad Warner Photography and Nick Zebelian
Upcoming Racing Schedule
B Squared Motorsports will continue their 20222 campaign with the Tezos All Star Circuit of Champions presented by Mobil 1 with a three-race sweep over Memorial Day weekend, first visiting Williams Grove Speedway for the $10,000-to-win Randy Wolfe Tribute on Friday, May 27, followed by the two-day Bob Weikert Memorial at Port Royal Speedway on Saturday and Sunday, May 28-29. The Bob Weikert will award a total weekend winner's share equaling $39,000; $10,000 on Saturday and $29,000 on Sunday.
Sponsors:
Anderson's Pure Maple Syrup, CK Contractors LLC, Buesser Concrete, Howard Law, Wayne Corini, CPA, Capital Senior Services LLC, Rocky Rococo's Pizza, Indian Motorcycle of Metro Milwaukee, Utica Bar, Turn It Up Media, Mr. Jim's Racing, Sam I Am, DSG, All Star Performance, Behling Racing Equipment, HRP, FK Rod Ends, Outerwears Inc., Midland Performance Inc., K1 Race Gear, XYZ Machining, BLZ.
Social Media:
For up-to date information please follow Bill Balog and B Squared Motorsports online, as well as on all of his available social media networks:
Website: http://www.billbalog.com/
Facebook: https://www.facebook.com/BSquaredMotorsports
Twitter: https://twitter.com/bsqdmotorsports
Instagram: https://www.instagram.com/b_squaredmotorsports/
Merchandise:
Those seeking the latest merchandise should visit: http://www.billbalog.com/shopping/
Press Release:
Chad Melis
Turn It Up Media
www.turnitup.marketing
---
Article Media
Back to News