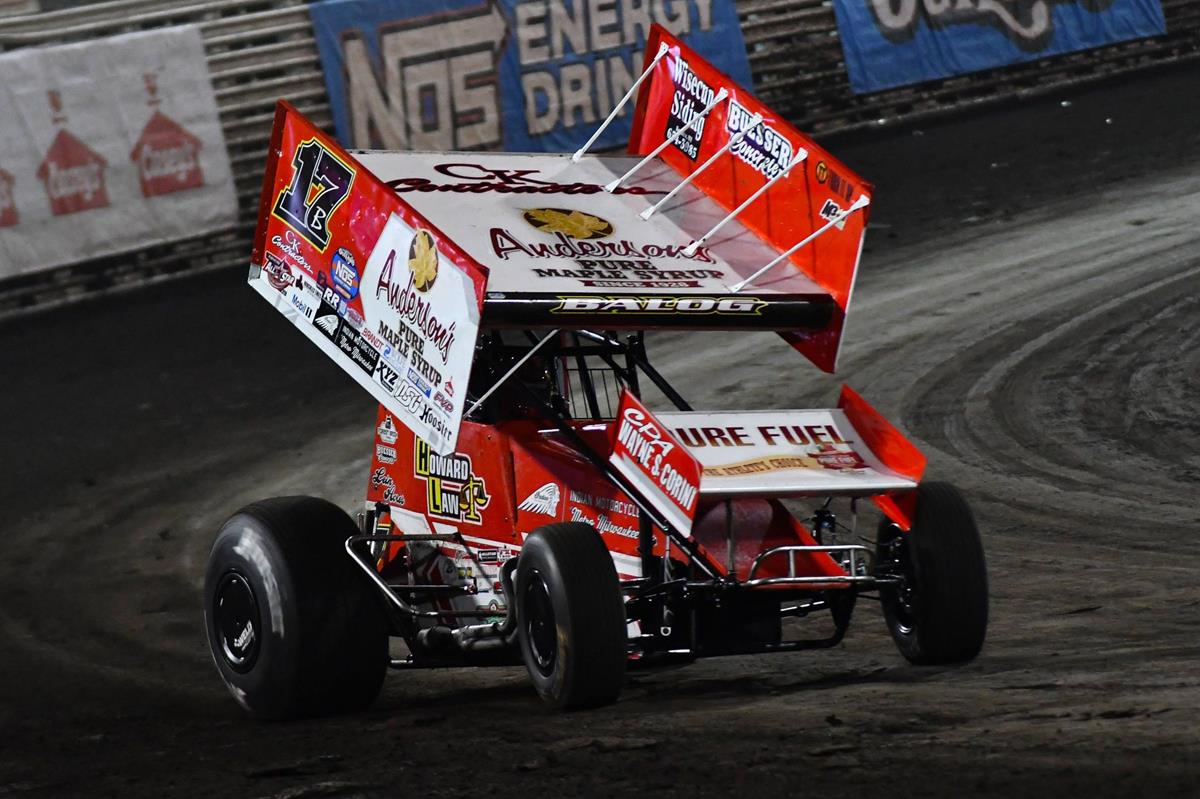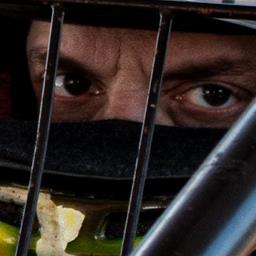 ---
BALOG FINDS SPEED, JUST MISSES A-MAIN AT THE 60TH KNOXVILLE NATIONALS; ASCOC DOUBLE HEADER THIS WEEKEND
Hartland, Wisconsin (August 19th, 2021) – Bill Balog and B Squared Motorsports put in extra effort in advance of the 60th Knoxville Nationals and found more speed and comfort at the famed event than ever before.
The Anderson's Pure Maple Syrup #17B started their 2021 Knoxville Nationals campaign strong, scoring ninth quick out of 48 cars on Thursday Night's qualifying night. But, after 22 laps in the B-main, Bill was unable to capitalize and finished two spots out of the evening's A-Main transfer position, ending their night and sending him to Friday's "Hard Knox" last chance program.
On Friday the team qualified well once again (8th in their flight) en route to picking up their respective heat race win! The win qualified "The North Pole Nightmare" for that evening's "Hard Knox" A-Main, where they solidified an 8th place finish and enough points for a 13th starting position in Saturday night's 60th Knoxville Nationals B-Main event. Bill and the CK Contractors LLC, Buesser Concrete, Wisecup Siding, Howard Law, Turn It Up Media sprint car's 60th Knoxville Nationals run came to an end after moving up two spots to finish 11th in Saturday night's B-main.
"We came here to make the big show, so that's frustrating. But we were faster and more comfortable than we have ever been here at Knoxville so we'll take that and keep moving forward. It was great to have Steve Anderson from Anderson's Pure Maple Syrup and his family Mya and Craig here along with Mike and Julie Gaulke and their son Christopher as well." said Balog, the 10x IRA Sprint champion.
In place of a few tune-up races leading up to the Nationals, the team opted to work on their shock package and spend time at Tim Engler's chassis dyno testing facility working with a pair of engines. It was an important investment that helped them find speed at Knoxville, one they will carry throughout the remainder of the All-Star Circuit of Champions season.
Bill and the team offer a special thank you to all of their marketing partners and specifically to Wayne Corini, John Degnitz of Rocky Rococo Sheboygan, Mr. Jim's Racing / Indian Motorcycle of Metro Milwaukee, and Ken Beckford for their help during the Nationals. We are also grateful for all the North Pole Nightmare fans that stopped over and bought some merchandise or just wished us luck! It was nice to see some familiar faces from home and new ones as well.
Photo Credit: Chad Warner Photography
Upcoming Racing Schedule Realignment-
The team will resume their focus with the FloRacing All Star Circuit of Champions presented by Mobil 1 and will kick-off the upcoming weekend with a one-night stand at I-96 Speedway in Lake Odessa, Michigan, on Friday, August 20.
With the risk of severe weather becoming an increasing factor for northern Indiana, the All Stars will replace Saturday's previously scheduled appearance at Plymouth Speedway (Plymouth, IN) with action at Waynesfield Raceway Park in Waynesfield, Ohio. Originally slated to host the regionally-based FAST Series on Saturday, August 21, the All-Star Circuit of Champions will now co-sanction the event which will award a $5,000 payday.
Originally planning to race with the IRA Sprint Car series at Angell Park Speedway on Sunday August 22nd, the realignment has altered that TBD. Stay tuned to B Squared Motorsports social media for weekend updates. The event at Plymouth Speedway will not be rescheduled.
Bill and the B Squared Motorsports team currently sit in 6th place in ASCoC season points standings.
For those who cannot witness the All-Star Circuit of Champions live and in person, FloRacing.com, the official media partner and broadcast provider of the All Stars, has you covered. To access live and on-demand racing action from the All-Star Circuit of Champions, visit FloRacing.com and become an annual PRO subscriber. Race fans can see all the USAC and dirt late-model action they want in addition to Eldora Speedway's slate of races and those of the All-Star Circuit of Champions. The subscription unlocks access to premium content across the entire FloSports network. Watch the events across all screens by downloading the FloSports app on iOS, Android, Apple TV, Roku, Amazon Fire and Chromecast.
---
Article Media
Back to News