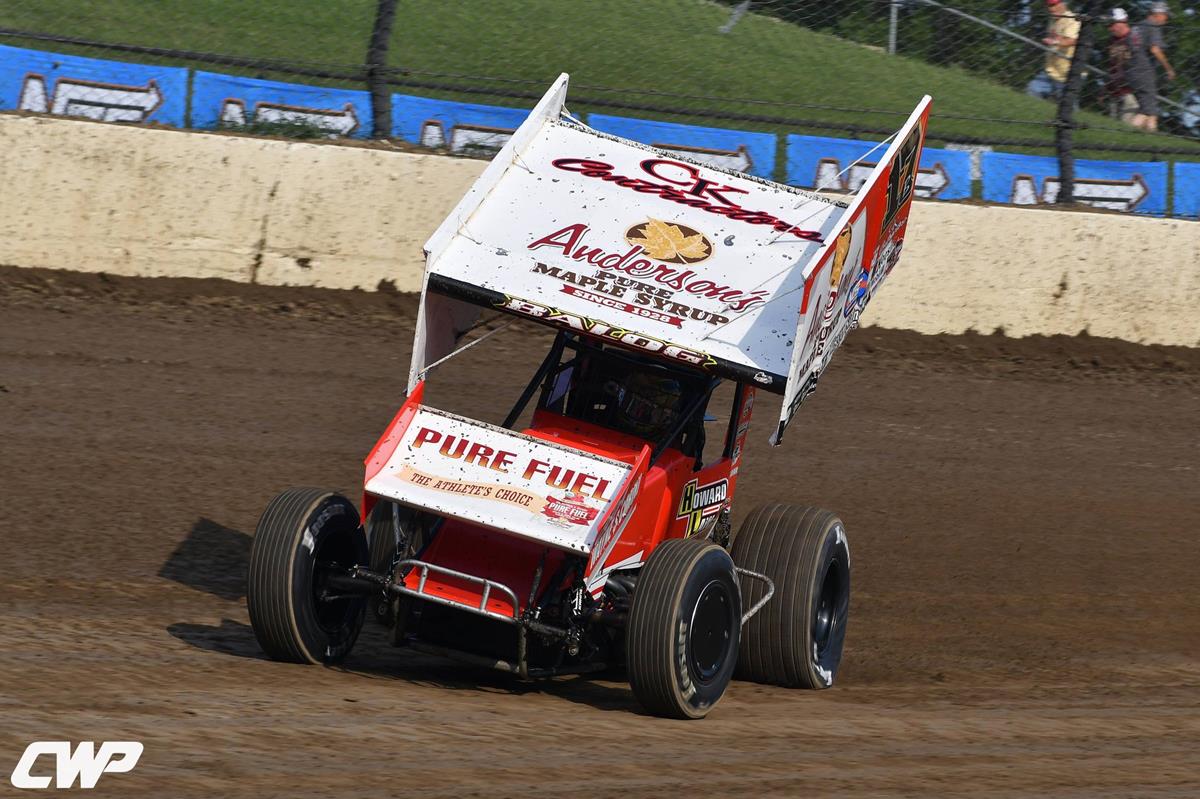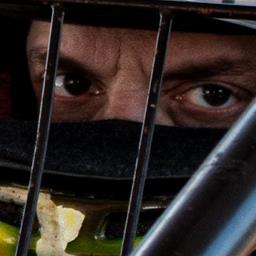 ---
BILL BALOG CLAIMS FOURTH PLACE AT ELDORA SPEEDWAY'S 38TH KINGS ROYAL WITH THE WORLD OF OUTLAWS SPRINT CAR SERIES
Hartland, Wisconsin (July 20th, 2021) – Bill Balog piloted the B Squared Motorsports, Anderson's Pure Maple Syrup #17B to back-to-back World of Outlaws Sprint Car Series feature events last Saturday at the legendary Eldora Speedway in Rossburg, Ohio. Balog earned a career best fourth place finish in the running of the 38th annual King's Royal. The 38th edition of the race took place in the afternoon and the 37th annual later that evening. This created a spectacular doubleheader with TWO $175,000 to win races, due to last year's postponement of the 2020 event and Mother Nature delaying events earlier in the week with rain.
Bill and the team bounced back from a challenging $10,000-to-win Jokers Wild at Eldora Speedway on Wednesday, July 14 where the CK Contractors LLC, Buesser Concrete, Wisecup Siding #17B failed to qualify for the A-Main. Balog ran into a slew of issues in the Last Chance Showdown that finally forced Bill to retire from the race after ultimately a chunk of mud damaged the top wing.
Thursday, July 15th the team qualified 15th out of 61 of the Nation's top sprint cars for the 38th running of the Kings Royal before rain postponed the event; creating the 38th and 37th back to back double header in front of a record setting crowd on Saturday.
The 38th Kings Royal resumed with Balog claiming second place to Brad Sweet in the Drydene Heat #3 after fending off challenges from Spencer Bayston and Carson Macedo. This secured Bill a ninth place starting spot in the 40 lap A-Main!
"If you look at the lineup of that heat race and wonder who the odd man out would be from qualifying for the Kings Royal, the majority of people had to think it was us. The engine stumbled early in the week but we were able to get it going despite a tough Jokers Wild. We had a lot of confidence with the slick and dry conditions of the afternoon show," said Bill Balog, the 10X IRA Sprint Champ.
Balog battled the best in sprint car racing through the 40 lap 38th Kings Royal feature event, staying out of trouble and ultimately moving up five positions to secure his career best fourth place finish in the Eldora Speedway's crown jewel sprint car event.
"We've never been able to run the fence like that at Eldora. We've never raced a full schedule like we are this year with the All-Star Circuit of Champions and we have really gelled as a team. We keep getting better and I'm getting better as a driver. We'll keep battling and keep trying to improve; we continue to gain confidence in what we are doing each night," said Balog, driver of the Howard Law, Lein Acres, Rocky Rococo's Pizza of Sheboygan, Turn It Up Media sprint car.
After routine maintenance and cleaning the team saddled up for that evening's running of the 37th Kings Royal. After qualifying 41st and missing the heat race invert, Bill found himself in 9th place at one point of Drydene Heat Race #5 with only the top 3 transferring to the A-Main. Balog was able to pick off a few cars before the red flag flew for an accident involving Ian and Kerry Madsen. This positioned Bill for a 4th place restarting position where he was able one-better his position and finish third, transferring to the second Kings Royal feature event of the day!
Balog said "During the Red Flag, Joe Taylor came down off the trailer and ran to turn two to let me know I would restart 4th. Swear words aside, the engine was making a different tone and he told me to run it in there and blow it up if it's going to blow up. Now's the time, do what you need to do to put us in the show, and we were able to get it done".
The North Pole Nightmare and B Squared Motorsports would wrap up the NOS Energy Drink World of Outlaws Sprint Car Series weekend with a 19th place finish in the 40 lap, $175,000 to win, 37th Kings Royal at Eldora Speedway.
"What a weekend. I can't thank everyone enough for helping us get here. To put the Forest Brook Farms LLC/Forest Brook Trucking LLC, Indian Motorcycle of Metro Milwaukee, Utica Bar #17B in the show for both Kings Royal events and run top five is special. Thanks to Wayne Corini (CPA) and Jimi Bradford for buying a couple of tires and to Mr. Jim's Racing, Sam I Am, DSG, M3 Custom Creations, All Star Performance, Behling Racing Equipment, HRP, FK Rod Ends, Outerwears Inc., Dirty Slide Jobs, Midland Performance Inc., K1 Race Gear, XYZ Machining, BLZ and everyone who makes this all possible." said Balog, a five-time feature event in winner in 2021 with the All Star's and IRA.
Photo Credit: Chad Warner Photography
Upcoming Racing Schedule:
The FloRacing All Star Circuit of Champions presented by Mobil 1 will resume racing with seven races in nine days starting July 23rd with two nights of the Inaugural Beach Brawl at Lake Ozark Speedway and then Humboldt Speedway in Humboldt, KS before a night off. Racing will resume on July 27th at I-70 Speedway in Odessa, MO, before a trio of races on July 29th at Missouri State Fair Speedway for the $10,000 to win Ron Ditzfield Memorial, finishing up the nine-day run with back to back nights at 34 Raceway in Burlington, IA, and the famed Knoxville Raceway in Knoxville, IA.
Bill and the team currently sit in 5th place in ASCoC season points standings.
For those who cannot witness the Bumper to Bumper IRA or All Star Circuit of Champions live and in person, FloRacing.com, the official media partner and broadcast provider of the All Stars, has you covered. To access live and on-demand racing action from the All-Star Circuit of Champions, visit FloRacing.com and become an annual PRO subscriber.
Sponsors:
Anderson's Pure Maple Syrup, CK Contractors LLC, Buesser Concrete, Wisecup Siding, Howard Law, Wayne Corini, CPA, Lein Acres, Rocky Rococo's Pizza, Forest Brook Farms LLC/Forest Brook Trucking LLC, Indian Motorcycle of Metro Milwaukee, Utica Bar, Mr. Jim's Racing, Sam I Am, DSG, Turn It Up Media, M3 Custom Creations, All Star Performance, Behling Racing Equipment, HRP, FK Rod Ends, Outerwears Inc., Dirty Slide Jobs, Midland Performance Inc., K1 Race Gear, XYZ Machining, BLZ
Social Media:
For up-to date information please follow Bill Balog and B Squared Motorsports online, as well as on all of his available social media networks:
Website: http://www.billbalog.com/
Facebook: https://www.facebook.com/BSquaredMotorsports
Twitter: https://twitter.com/bsqdmotorsports
Instagram: https://www.instagram.com/b_squaredmotorsports/
Merchandise:
Those seeking the latest merchandise should visit http://www.billbalog.com/shopping/
Press Release:
Chad Melis
Turn It Up Media
www.turnitup.marketing
---
Article Media
Back to News