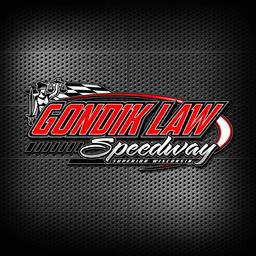 1/24/2018
Gondik Law Speedway
---
IRA Sprints top Northern Nationals Day 1
SUPERIOR, WI?(September 8) - Opening night of the 29th annual Rick Gondik Northern Nationals drew a huge near-capacity crowd as well as 118 cars in four divisions. The WISSOTA?Modifieds, Midwest Modifieds, Super Stocks and the IRA?410 Outlaw Sprints were part of the program Friday.
Winners in PolyDome Dirt Track Series action included Tim Johnson, Skeeter Estey and Dave Mass.
The Midwest Modified feature set for 20 laps was a tough one for many drivers. Five caution flags were thrown during the event. Through it all
2017 track champion Skeeter Estey remained oblivious to what was occurring behind him and led all 20 laps for the win.
Estey began the event from the pole. Andrew Inman, Nick DaRonco, Jamie Davis, Brandon Copp were Estey's main competitors in the early going.
DaRonco hung around in second while Copp, Davis and Inman battled among themselves. They were soon joined by Jason VandeKamp. VandeKamp used his speed, coupled with the caution flags, to make it to second, and just past halfway was in position to challenge Estey. He was unable to make a move on him, however, following the final yellow flag which came with eight laps remaining.
Estey went on to win his sixth feature race of the season at the speedway and his 28th of the season thus far. DaRonco drove a steady race to finish third while Davis was able to prevail for a fourth-place finish ahead of a very competitive Jeffery Lien, Jr. in fifth.
The Super Stocks were set for 25 laps for their feature, led by a pair of tough customers in Shane Sabraski and Dave Mass. After a quick caution flag for a tangle between Don Muzzy and Adam Soltis, Sabraski was strong and smooth over the ensuing laps. It was a cat-and-mouse battle between Sabraski, Mass and Tim Johnson, while Scott Lawrence hounded them from fourth.
The real battle at this point was behind the front four as Derek Vesel, Dexton Koch, D.J. Keeler and Jeff Klopstein took turns running in fifth.
On the final restart, with Sabraski seemingly in control, Mass made a strong move with two laps to go and took the point off turn two. Mass pulled away for the win with Sabraski second. Johnson, Lawrence and Dexton Koch rounded out the top five.
It was the first Northern Nationals title for Mass in a Super Stock, the 22nd feature win this season and the 494th feature win of his career.
The Modifieds were set for 30 circuits in their main event and it was same thing, different division as hard-hitters Tim Johnson and Shane Sabraski started side by side on the front row in the 24-car field.
Johnson jumped to the front with Sabraski second and Andy Davey to third. Those positions failed to change as the event went green to checkered.
There was plenty to watch behind them, as Joey Jensen and Jeremy Nelson scratched tooth and nail looking for fourth.
It was Johnson's first-ever Northern Nationals win in the Modified, though he has four other titles in the Super Stocks. Davey was rock solid in third, Joey Jensen fourth and Jeremy Nelson fifth.
Earlier in the evening Billy Balog bested Ian Madsen in the 30-lap IRS Sprint feaure. Terry McCarl, who was judged to have caused the first yellow flag and was sent to the back of the pack, was able to blow by most of the field to finish third. Scott Neitzel and Jeremy Schultz finished in the top five.
It was Bill Balog's sixth feature win at the Northern Nationals and the 99th of his IRA Career.
McCarl turned the fastest lap of the night at 13.270 seconds.
SUMMARY
WISSOTA Modifieds:
Feature (30 Laps): 1. 1JR-Tim Johnson, [1]; 2. 7A-Shane Sabraski, [2]; 3. 91-Andy Davey, [4]; 4. 21-Joey Jensen, [5]; 5. 4(N)-Jeremy Nelson, [6]; 6. 11-Jody Bellefeuille, [16]; 7. 224-Cody Wolkowski, [11]; 8.
40-Kevin Adams, [14]; 9. 73-Andy Jones, [3]; 10. 10X-Dave Cain, [18]; 11. 44-Darrell Nelson, [21]; 12. 57-Mike Anderson, [17]; 13.
24JR-Jeffrey Lien Jr., [10]; 14. 99L-Steve Lavasseur, [24]; 15.
81-Ashley Anderson, [23]; 16. 32-Pat Cook, [20]; 17. 99-Neil Balduc, [19]; 18. 98-Al Uotinen, [22]; 19. 37-Kelly Estey, [12]; 20. 71-Todd Gehl, [13]; 21. .308-Patrick Hoffman, [7]; 22. 95-Rick Rivord, [9]; 23.
45C-Greg Chesley, [8]; 24. (DNF) 21B-Brandon Jensen, [15]
Heat 1 (8 Laps): 1. 1JR-Tim Johnson, [3]; 2. 95-Rick Rivord, [2]; 3.
37-Kelly Estey, [4]; 4. 11-Jody Bellefeuille, [6]; 5. 99-Neil Balduc, [8]; 6. 55W-Jeffrey Wood, [1]; 7. 44-Darrell Nelson, [5]; 8. 81-Ashley Anderson, [7]
Heat 2 (8 Laps): 1. 73-Andy Jones, [1]; 2. .308-Patrick Hoffman, [3]; 3.
4(N)-Jeremy Nelson, [7]; 4. 224-Cody Wolkowski, [8]; 5. 10X-Dave Cain, [4]; 6. (DNF) 64H-Kelly Checkalski, [6]; 7. (DNF) 97-Peter Loecken, [5]; 8. (DNF) 50-Brady Caul, [2]
Heat 3 (8 Laps): 1. 91-Andy Davey, [1]; 2. 45C-Greg Chesley, [3]; 3.
24JR-Jeffrey Lien Jr., [5]; 4. 71-Todd Gehl, [7]; 5. 57-Mike Anderson, [4]; 6. 4X-Steve Stuart, [8]; 7. 14-Ryan Garson, [2]; 8. 98-Al Uotinen, [6]
Heat 4 (8 Laps): 1. 21-Joey Jensen, [1]; 2. 7A-Shane Sabraski, [5]; 3.
21B-Brandon Jensen, [2]; 4. 40-Kevin Adams, [7]; 5. 32-Pat Cook, [4]; 6.
04JR-Adam Ayotte, [6]; 7. (DNF) 1L-Donnie Lofdahl, [3]
Semi Feature 1 (10 Laps): 1. 57-Mike Anderson, [2]; 2. 99-Neil Balduc, [1]; 3. 44-Darrell Nelson, [5]; 4. 81-Ashley Anderson, [6]; 5. 4X-Steve Stuart, [3]; 6. 04JR-Adam Ayotte, [4]; 7. 1L-Donnie Lofdahl, [7]; 8.
50-Brady Caul, [8]
Semi Feature 2 (10 Laps): 1. 10X-Dave Cain, [1]; 2. 32-Pat Cook, [2]; 3.
98-Al Uotinen, [5]; 4. 99L-Steve Lavasseur, [8]; 5. 55W-Jeffrey Wood, [3]; 6. 64H-Kelly Checkalski, [6]; 7. (DNF) 97-Peter Loecken, [7]; 8.
(DNF) 14-Ryan Garson, [4]
WISSOTA Super Stocks:
Feature (25 Laps): 1. 2-Dave Mass, [2]; 2. 7A-Shane Sabraski, [1]; 3.
1JR-Tim Johnson, [3]; 4. 77-Scott Lawrence, [4]; 5. 78K-Dexton Koch, [14]; 6. 21JR-Jeff Klopstein, [17]; 7. 16-Derek Vesel, [5]; 8. 30-Kevin Burdick, [12]; 9. 8-Keith Kern, [11]; 10. 18-William (Willie) Johnsen Jr., [8]; 11. 19-Tristan LaBarge, [13]; 12. 51JR-Shawn McFadden, [16]; 13. 12-Jim Campbell, [7]; 14. 17-Mike Loomis, [15]; 15. 1-Cory Casari, [10]; 16. 24-Andy Grymala, [18]; 17. 55S-Ryan Schaufler, [21]; 18.
13-Patrick Heikkinen, [22]; 19. 21F-Nick Oreskovich, [9]; 20. (DNF) 10-Kyle Helling, [19]; 21. (DNF) 6-Shane Kisling, [20]; 22. (DNF) 12(K)-Duane Keeler, [6]; 23. (DNF) 1X-Don Muzzy, [23]; 24. (DNF) 9-Adam Soltis, [24]
Heat 1 (8 Laps): 1. 16-Derek Vesel, [1]; 2. 77-Scott Lawrence, [5]; 3.
19-Tristan LaBarge, [3]; 4. 8-Keith Kern, [8]; 5. 24-Andy Grymala, [6]; 6. 21JR-Jeff Klopstein, [9]; 7. 1X-Don Muzzy, [2]; 8. 32F-Brian Carl, [4]; 9. (DNF) 33C-Cole Chernosky, [7]
Heat 2 (8 Laps): 1. 2-Dave Mass, [2]; 2. 12(K)-Duane Keeler, [4]; 3.
12-Jim Campbell, [7]; 4. 78K-Dexton Koch, [6]; 5. 13-Patrick Heikkinen, [1]; 6. 32H-Matthew Hammitt, [3]; 7. 17(D)-Wayne Dean, [9]; 8. 11R-Rita Anderson, [5]; 9. 14-Adam Shinn, [8]
Heat 3 (8 Laps): 1. 7A-Shane Sabraski, [8]; 2. 21F-Nick Oreskovich, [1]; 3. 18-William (Willie) Johnsen Jr., [6]; 4. 29F-Dave Flynn, [4]; 5.
10-Kyle Helling, [5]; 6. 76-Keith Koski, [7]; 7. 9-Adam Soltis, [2]; 8.
55S-Ryan Schaufler, [3]; 9. 4K-Larry Both, [9]
Heat 4 (8 Laps): 1. 1JR-Tim Johnson, [2]; 2. 1-Cory Casari, [1]; 3.
30-Kevin Burdick, [4]; 4. 17-Mike Loomis, [5]; 5. 51JR-Shawn McFadden, [8]; 6. 6-Shane Kisling, [6]; 7. 54-Dan Yrjanson, [9]; 8. 150-Austin McWilliam, [3]; 9. 1(K)-Lukas Koski, [7]
WISSOTA Midwest Modifieds:
Feature (20 Laps): 1. 37X-Skeeter Estey, [1]; 2. 16-Jason VandeKamp, [8]; 3. 8-Nick DaRonco, [5]; 4. 85-Jamie Davis, [7]; 5. 24JR-Jeffrey Lien Jr., [16]; 6. CRAZY 1-Craig Lofdahl, [14]; 7. 7P-Andy Jones, [18]; 8. 22-Brandon Copp, [4]; 9. 11JR-Andrew Inman, [2]; 10. L1-Shane Howell, [15]; 11. 50C-Cody Lee, [3]; 12. EZ1-Randy Laage, [17]; 13. 70JR-David Simpson, [25]; 14. 5-David Swearingen, [21]; 15. 29F-Dave Flynn, [12]; 16. 21-Wyatt Boyum, [20]; 17. 33C-Cole Chernosky, [24]; 18. 50H-Haley Lee, [23]; 19. (DNF) 68K-Dan Kingsley, [19]; 20. (DNF) 17-Deven VanHouse, [9]; 21. (DNF) 47-Don Craig, [13]; 22. (DNF) 32-Cody Carlson, [10]; 23. (DNF) 14SKY-Tyler Hudack, [22]; 24. (DNF) 092-Nick Bruder, [6]; 25. (DNF) 137-Mack Estey, [11]
Heat 1 (8 Laps): 1. 11JR-Andrew Inman, [2]; 2. 29F-Dave Flynn, [3]; 3.
L1-Shane Howell, [6]; 4. 24JR-Jeffrey Lien Jr., [7]; 5. 61-Tom Smart, [1]; 6. 7A-Eric Anderson, [4]; 7. 2C-Dan Tocheri, [5]; 8. 70JR-David Simpson, [8]; 9. 05-Billy Milne, [9]
Heat 2 (8 Laps): 1. 37X-Skeeter Estey, [5]; 2. 17-Deven VanHouse, [4]; 3. 14SKY-Tyler Hudack, [3]; 4. EZ1-Randy Laage, [7]; 5. 20-Denny Cutsforth, [6]; 6. 3D-Kevin Monteith, [8]; 7. 96S-Vic Schmidt, [2]; 8.
14J-James Kannegiesser, [1]; 9. (DNF) 00-Jason Hobbs, [9]
Heat 3 (8 Laps): 1. 092-Nick Bruder, [1]; 2. 47-Don Craig, [3]; 3.
8-Nick DaRonco, [8]; 4. 88-Tyler Luger, [7]; 5. 5-David Swearingen, [5]; 6. 88(T)-Tanner Williamson, [4]; 7. 52-Jeremy Lindquist, [2]; 8.
31-Wayne Jacques, [6]
Heat 4 (8 Laps): 1. 50C-Cody Lee, [2]; 2. 22-Brandon Copp, [5]; 3.
21-Wyatt Boyum, [3]; 4. 99-Mark Kangas, [6]; 5. 68K-Dan Kingsley, [7]; 6. 11-Justin Weinberger, [1]; 7. 27B-Dave DeVente, [8]; 8. 7(D)-Dalton Mains, [4]
Heat 5 (8 Laps): 1. 85-Jamie Davis, [1]; 2. CRAZY 1-Craig Lofdahl, [3]; 3. 137-Mack Estey, [7]; 4. 33C-Cole Chernosky, [5]; 5. 13-Chris Bretting, [6]; 6. 3M-McLean Andrews, [4]; 7. 20(G)-Glenn Godin, [2];
(DNS) 57-Darren Bernauer,
Heat 6 (8 Laps): 1. 16-Jason VandeKamp, [1]; 2. 32-Cody Carlson, [4]; 3.
7P-Andy Jones, [3]; 4. 50H-Haley Lee, [6]; 5. 17K-David Kivi, [7]; 6.
621-Colin Chaschuk, [2]; 7. 24H-Jeff Hanninen, [5]; (DNS) 05B-Matthew Bernauer,
Semi Feature 1 (12 Laps): 1. EZ1-Randy Laage, [1]; 2. 21-Wyatt Boyum, [2]; 3. 50H-Haley Lee, [3]; 4. 17K-David Kivi, [4]; 5. 61-Tom Smart, [5]; 6. 88(T)-Tanner Williamson, [7]; 7. 11-Justin Weinberger, [6]; 8.
96S-Vic Schmidt, [8]; 9. 7(D)-Dalton Mains, [10]; 10. 05-Billy Milne, [11]; 11. (DNF) 2C-Dan Tocheri, [9]; (DNS) 05B-Matthew Bernauer,
Semi Feature 2 (12 Laps): 1. 7P-Andy Jones, [2]; 2. 5-David Swearingen, [5]; 3. 33C-Cole Chernosky, [3]; 4. 52-Jeremy Lindquist, [8]; 5.
3M-McLean Andrews, [7]; 6. 621-Colin Chaschuk, [6]; 7. 31-Wayne Jacques, [10]; 8. (DNF) 24H-Jeff Hanninen, [9]; 9. (DNF) 88-Tyler Luger, [1]; 10.
(DNF) 20-Denny Cutsforth, [4]; (DNS) 00-Jason Hobbs,
Semi Feature 3 (12 Laps): 1. 68K-Dan Kingsley, [3]; 2. 14SKY-Tyler Hudack, [1]; 3. 70JR-David Simpson, [10]; 4. 13-Chris Bretting, [4]; 5.
3D-Kevin Monteith, [5]; 6. 14J-James Kannegiesser, [9]; 7. 20(G)-Glenn Godin, [8]; 8. 27B-Dave DeVente, [7]; 9. (DNF) 99-Mark Kangas, [2]; 10.
(DNF) 7A-Eric Anderson, [6]; (DNS) 57-Darren Bernauer,
IRA?410 Sprints:
A Feature 1: 1. 17B-Bill Balog, [3]; 2. 18-Ian Madsen, [9]; 3. 24-Terry McCarl, [2]; 4. 2W-Scott Neitzel, [7]; 5. 5J-Jeremy Schultz, [5]; 6.
85M-Steve Meyer, [11]; 7. 4K-Kris Spitz, [12]; 8. 19-R.J. Johnson, [10]; 9. 23-Russel Borland, [18]; 10. 99-Kyle Marten, [16]; 11. 68-Dave Uttech, [8]; 12. 14AJ-Wayne Modjeski, [15]; 13. 12-Michael Decker, [20]; 14. 41-Dennis Spitz, [14]; 15. 14AJX-Heikkinen Patrick, [21]; 16.
9-Jared Goerges, [17]; 17. (DNF) 03-Jamey Ogston, [13]; 18. (DNF) 56-Davey Heskin, [1]; 19. (DNF) 64-Scotty Thiel, [6]; 20. (DNF) 44-Chris Martin, [4]; 21. (DNF) 99X-Skylar Gee, [19]
Heat 1: 1. 17B-Bill Balog, [3]; 2. 24-Terry McCarl, [2]; 3. 85M-Steve Meyer, [5]; 4. 4K-Kris Spitz, [4]; 5. 41-Dennis Spitz, [6]; 6. 99-Kyle Marten, [1]; (DNS) 99X-Skylar Gee,
Heat 2: 1. 19-R.J. Johnson, [2]; 2. 44-Chris Martin, [1]; 3. 56-Davey Heskin, [4]; 4. 2W-Scott Neitzel, [3]; 5. 14AJ-Wayne Modjeski, [7]; 6.
(DNF) 9-Jared Goerges, [5]; 7. (DNF) 12-Michael Decker, [6]
Heat 3: 1. 18-Ian Madsen, [1]; 2. 5J-Jeremy Schultz, [3]; 3. 68-Dave Uttech, [2]; 4. 64-Scotty Thiel, [4]; 5. 03-Jamey Ogston, [6]; 6.
23-Russel Borland, [5]; 7. 14AJX-Heikkinen Patrick, [7]
Qualifying 1: 1. 24-Terry McCarl, [13]; 2. 56-Davey Heskin, [11]; 3.
64-Scotty Thiel, [9]; 4. 17B-Bill Balog, [6]; 5. 2W-Scott Neitzel, [5]; 6. 5J-Jeremy Schultz, [17]; 7. 99X-Skylar Gee, [8]; 8. 19-R.J. Johnson, [1]; 9. 68-Dave Uttech, [18]; 10. 99-Kyle Marten, [15]; 11. 44-Chris Martin, [4]; 12. 18-Ian Madsen, [14]; 13. 85M-Steve Meyer, [7]; 14.
9-Jared Goerges, [21]; 15. 23-Russel Borland, [2]; 16. 4K-Kris Spitz, [20]; 17. 12-Michael Decker, [19]; 18. 03-Jamey Ogston, [12]; 19.
41-Dennis Spitz, [10]; 20. 14AJ-Wayne Modjeski, [3]; 21. 14AJX-Heikkinen Patrick, [16]
---
Article Credit: Jerry O'Brien
Back to News