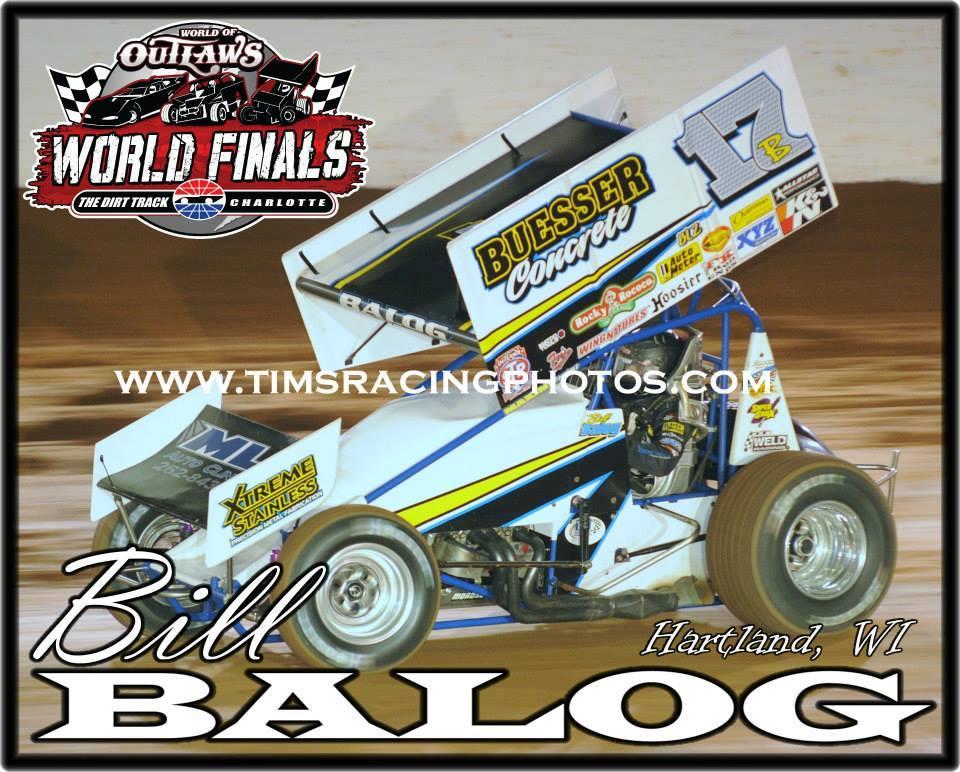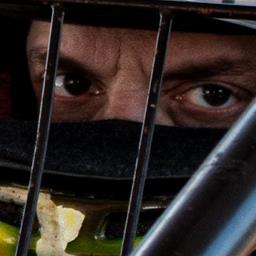 ---
Uphill Battle at the World Finals
Bristol, WI – November 14, 2013. Bill Balog and the B2 Motorsports team made the long haul this past week as the team headed to Concord, NC to the Dirt Track at Charlotte Motor Speedway for the World Finals. Fifty-five cars were on hand for the unique format that would start Thursday night as teams would qualify for both Friday and Saturday night's shows. Bill would be the 45th qualifier for the Friday night show and with a heavy, rough track in place he would lay down a lap that would be 27th quickest setting him up with a 6th place starting spot in the 2nd heat race for Friday night. After five big block modified heats and a late model qualifying session were run the sprints were back up for Saturday night's qualifying. After a few adjustments, Bill would be the 20th car pushed off to take time struggling to a 37th quickest time of the fifty-five cars to take time setting him up with a 8th place starting spot in the 2nd heat race on Saturday.
Friday night the team was back at the track as they were set up with a 6th place starting position in the 2nd heat race. At the drop of the green Bill maintained his position, but as the laps would down he would lose a spot to Logan Schuchart and finish in the 7th position sending him into the B-main. Lining up 8th in the B-main, Bill would lose a little ground coming out of turn two, but would maintain a 9th place running position. Two laps in something got into the brake line causing Bill to lose his brakes. Bill held on as long as he could until he finally retired from the event to avoid any damage to the car.
Saturday night the team had a big hole to dig out of as they were starting 8th in the second heat race with the likes of the top-2 in World of Outlaw points starting directly in front of the 17B sprinter. Bill would maintain his 8th place starting position throughout the heat race and would finish there sending him to a front row staring position in the C-main. Starting alongside the #13 of Mark Dobmeier, Bill would follow him through turns one and two as the two would race hard the first six laps with Bill trying to keep his momentum up on the high side of the track to overtake the #13 sprinter. On lap six the car would stumble in turns three and four causing the car to slow. At the end of ten laps Bill would maintain his 2nd place position sending him to the tail of the B-main. With the track being tough to pass on, Bill fought his way forward to a 13th place finishing position ending his night and the 2013 season.
Bill and the team would like to once again thank everyone who made the trip last weekend happened and they include Justin Larson of Wingatures, Eddy of MLS Auto Clinic in Salem, WI, Fec's Place in Kenosha, WI, John Degnitz of Rocky Rococo's, the Sluka Family, Dave, Denise, Jamie, and Jared Zirbel, Mike and Melissa Luhtala, Jim Clark, Jamie Odekirk, Wayne and Carole Dannehl, Josh Neuhaus, Rory Neuhaus, Larry Janicsek, GW, Tony Bonilla, Ray Underwood, Linda Coleman, Nathan Priddy, Kevin Lincoln, Don Porter, Ron Weitting, Wilson Lund, Mark Jurgenson of Matco Tools, Jon Vossekuil, Nick Bishop, and Jeff and Cam Wisecup.
The team is now back in the shop getting a head start on the 2014 season. We are also in the process of searching for marketing partners for the 2014 season. Please contact Bill at balogb17@yahoo.com or Matt at littlekw022@gmail.com if you have any interest in partnering with B2 Motorsports team in 2014.
Stay up to date with what is going on with Bill and the B2 Motorsports team by checking out the Facebook page at http://www.facebook.com/bsquaredmotorsports. Also remember to check out Bill Balog and the B2 Motorsports Team by visiting www.billbalog.com for driver and crew bios, our schedule, pictures, videos, and to sign our guestbook if you'd like to.
Bill and the B2 Motorsports Team would also like to thank our continued supporters/sponsors including: Buesser Concrete, Maxim Chassis, Hepfner Racing Products, Xtreme Stainless, Gleason Equipment, Super Shox, K&N Filters, FK Rod Ends, Auto Meter, Weld Wheels, Saldana Racing Products, Astro Titanium, DMI, Fibrestar Industries, Stumble Inn Bar and Grill, Allstar Performance, Competition Driveline Service, BLZ, XYZ Machining, Outerwears, and Champion Oil.
---
Article Credit: Matt Myers
Submitted By: Matt Myers
Back to News