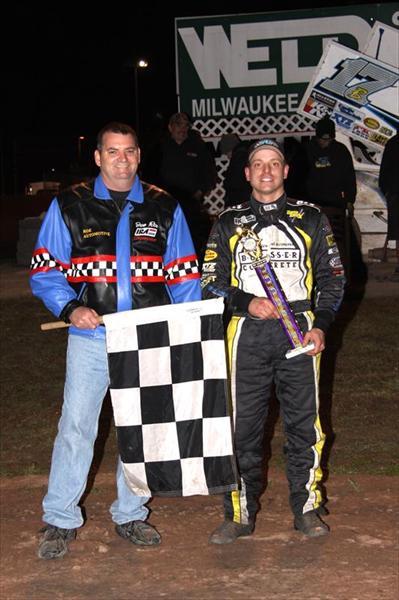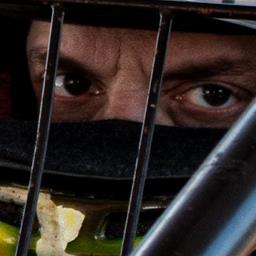 ---
Deep Run to Break the Record!!
Bristol, WI – September 25, 2013. Bill and the B2 Motorsports team made the hour long trek to the Beaver Dam Raceway in Beaver Dam, WI this past Saturday. Bill and the team were looking to pick up their 17th victory of the season last Saturday, but Bill was also chasing his 62nd career IRA victory to put him atop of the IRA career feature wins list as he had tied the record the week prior at the Sheboygan County Fairgrounds in Plymouth, WI. Joe Roe, the 9-time IRA champ was in the house to see if the record would fall as he is the man that Bill was tied with for the record. Also in attendance were a couple World of Outlaw feature winners in Ian Madsen and Lucas Wolfe, but they weren't there to spectate. The night started out with Bill laying down the only sub-twelve second lap which would be the quickest of the 28 cars on hand lining him up with a 6th place starting position on a heavy racetrack. At the drop of the green flag Bill would quickly move into the 3rd position chasing Steve Meyer and Jeremy Schultz. Schultz would bobble coming out of turn two around half way allowing Bill to make his way underneath Schultz into the 2nd position. Bill would chase the #85M sprinter to the checkered flag finishing in the 2nd position. Bill would draw a #5 pill for the feature invert setting him up with a deep starting position of 10th place. When the green flag came out Bill would make his way into the 6th position by lap four. On lap five, Bill made his way into 6th and lap five made his way into the 5th position. Four laps later on lap nine Bill would sweep around Tommy Sexton and make his way into 4th. The next lap Bill would make his way under Schultz into 3rd and the following lap he took to the high side of the track and overtake Travis Whitney for 2nd and the chase was on to get to leader Steve Meyer. Bill would catch and keep pace with Meyer dicing through the lap traffic making several attempts to get by. On lap twenty Meyer would bobble coming out of turn two allowing Bill to get alongside the #85M. The drag race was on to get to turn three with Bill getting the upper hand and making his way into the lead as lap twenty-one clicked off. Bill now opened a sizable lead which he would hold onto the final nine laps and pick up his 17th victory of the 2013 season and his 62nd of his IRA career putting him atop the feature win list overtaking 9-time IRA Champion, Joe Roe.
Joe Roe was the trophy presenter as to two drivers exchanged handshakes in victory lane. When Roe was asked about Bill overtaking the record, Roe said, "I had the bar set pretty high. Billy ran it down. It's great. Records are made to be broke and it gave him something to shoot for. He earned it." Bill in return answered, "I'm just happy we got the win to be honest. But it's awesome. I never thought we would've made it this far. I raced against Joe Roe in 2005 and I don't think I beat him, ever. I never thought we'd come this far so I'm pretty happy."
This coming Saturday, Bill and the B2 Motorsports team wrap up their season as they will head back to Beaver Dam, WI, but this time to the "Horsepower Half-Mile" of the Dodge County Fairgrounds. Bill and the team visited the track back in July where they broke the old track record and picked up a clean sweep that night. Please check our Facebook page for any last minute changes to our schedule by going to http://www.facebook.com/bsquaredmotorsports. Results throughout the night are also posted on our Facebook page provided there is service at the track. Also remember to check out Bill Balog and the B2 Motorsports Team by visiting www.billbalog.com for driver and crew bios, our schedule, pictures, videos, and to sign our guestbook if you'd like to.
Bill and the B2 Motorsports Team would also like to thank our continued supporters/sponsors including: Buesser Concrete, Maxim Chassis, Hepfner Racing Products, Xtreme Stainless, Gleason Equipment, Super Shox, K&N Filters, FK Rod Ends, Auto Meter, Weld Wheels, Saldana Racing Products, Astro Titanium, DMI, Fibrestar Industries, Stumble Inn Bar and Grill, Allstar Performance, Competition Driveline Service, BLZ, XYZ Machining, Outerwears, and Champion Oil.
---
Article Credit: Matt Myers
Submitted By: Matt Myers
Article Media
Back to News